Eventi
Il progetto Bridge alla European Blockchain Week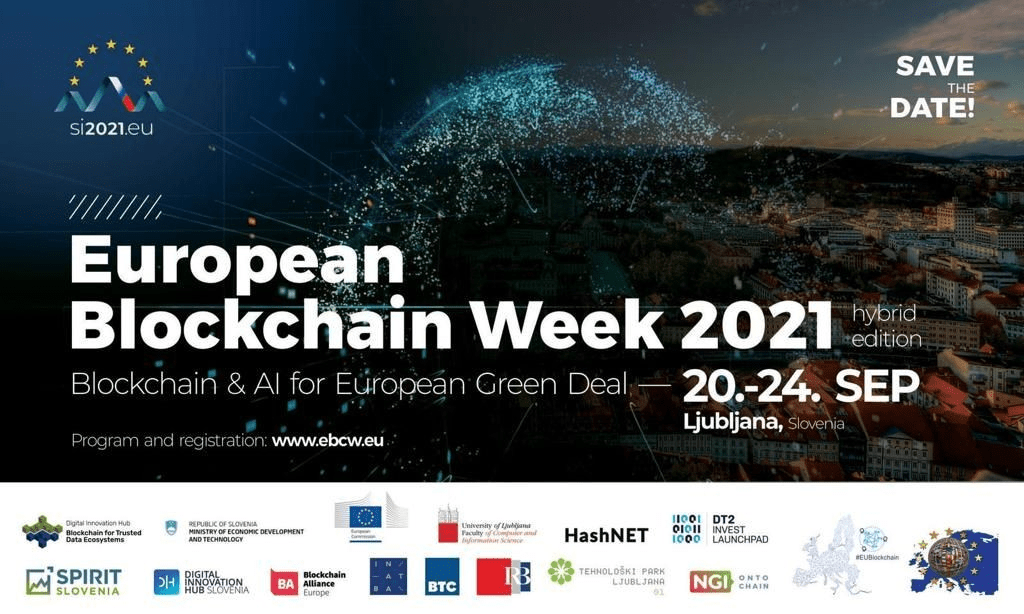 Dal 20-24 settembre 2021 a Lubiana e online
La European Blockchain Week 2021 sta arrivando. Dal 20-24 settembre 2021 a Lubiana (o virtualmente) più di 80 esperti discuteranno le nuove tendenze, il mercato e le opportunità di investimento per Blockchain e Intelligenza Artificiale.
Come parte del progetto BRIDGE, il nostro partner Bwcon organizza il DT2Invest Panel "EU Financial ecosystems for Blockchain & AI – Private investments" lunedì 20 settembre alle 16:00 CEST con:
Rick Hao, Speedinvest, Austria
Sarah-Diane Eck, Surprise, Francia
Simon Hohler, TrackLegit, Slovenia
Alain Falys, Fabric Ventures, Regno Unito
Moderatore: Helen Köpman, Unità Innovazione digitale e Blockchain, Commissione europea
Il panel Africa-Europa
Bwcon co-organizza anche il Panel Africa-Europa, dove il 23 settembre verranno esplorate le opportunità di cooperazione nel campo della Blockchain tra i due continenti.
18:15 – 20:00 An Africa-Europe Blockchain Partnership, a cooperation as equals
H.E. President F. Tshisekedi – TBC
Michelle Chivunga, GBBC, Senior Advisor – Governments/ African Union/ UN
Lucas Zaehringer, Positive Blockchain, France.
Shaun Conway/David Wood, Ixo Foundation, South Africa
Yaliwe Soko, United Africa Blockchain Association, South Africa (tbc)
Pierre Champsavoir, Blockchain for Good, France.
Kamuha Musubao David, Special Advisor Province of North Kivu, Democratic Republic of Congo.
Sibomana Cyrille, First Advisor of the President of the Republic of Burundi .
Bienfait Dunia, President of DUNIA BORA, Burundi.
Perrine de Coëtlogon, France representative at European Blockchain Partnership – TBC
Dasa Silovic, EPE President
Moderators : Jarita Chrisite, Stuart Hutton, Raymond Van Ermen.
20:00 – 21:00 Networking
Scopri l'agenda della Settimana della Blockchain dell'UE ➡️ https://www.ebcw.eu/program/