Events
The Bridge Project at European Blockchain Week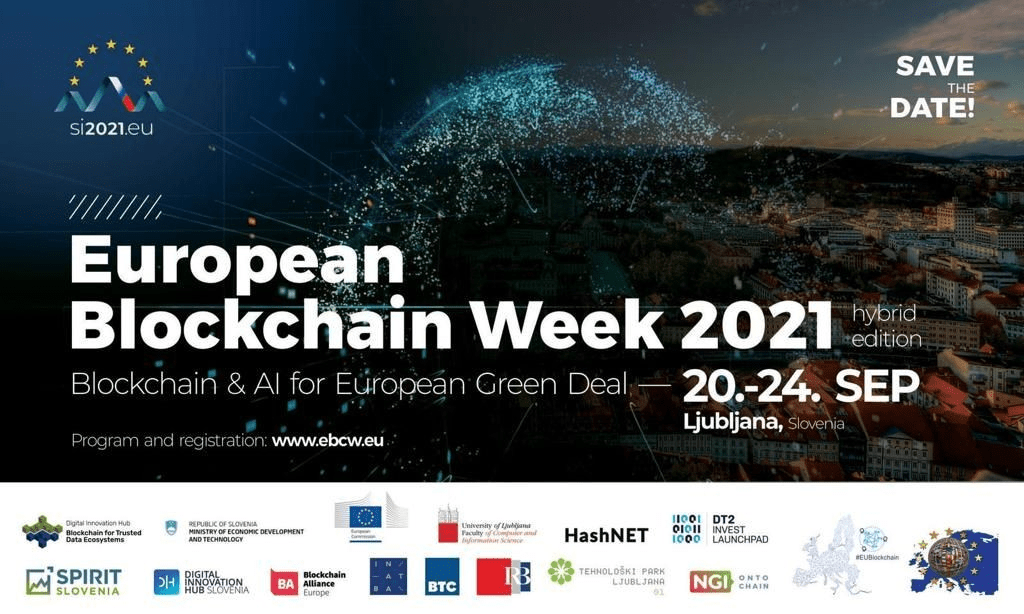 From 20-24 September 2021 in Ljubljana or virtually
The European Blockchain Week 2021 is coming soon. From 20-24 September 2021 in Ljubljana (or virtually) more than 80 key experts will discuss the new trends, market and investment opportunity for Blockchain and Artificial Intelligence.
As part of the EU Project BRIDGE, our partner Bwcon is glad to organize the DT2Invest Panel "EU Financial ecosystems for Blockchain & AI – Private investments" on Monday, September 20th at 16:00 CEST with:
Rick Hao, Speedinvest, Austria
Sarah-Diane Eck, Surprise, France
Simon Hohler, TrackLegit, Slovenia
Alain Falys, Fabric Ventures, United Kingdom
Moderator: Helen Köpman, Unit Digital Innovation and Blockchain, European Commission
Africa-Europe Panel
Bwcon is also co-organizing the Africa-Europe Panel on 23rd September where opportunity of cooperation in the field of Blockchain between the two continent will be explored.
18:15 – 20:00 An Africa-Europe Blockchain Partnership, a cooperation as equals
H.E. President F. Tshisekedi – TBC
Michelle Chivunga, GBBC, Senior Advisor – Governments/ African Union/ UN
Lucas Zaehringer, Positive Blockchain, France.
Shaun Conway/David Wood, Ixo Foundation, South Africa
Yaliwe Soko, United Africa Blockchain Association, South Africa (tbc)
Pierre Champsavoir, Blockchain for Good, France.
Kamuha Musubao David, Special Advisor Province of North Kivu, Democratic Republic of Congo.
Sibomana Cyrille, First Advisor of the President of the Republic of Burundi .
Bienfait Dunia, President of DUNIA BORA, Burundi.
Perrine de Coëtlogon, France representative at European Blockchain Partnership – TBC
Dasa Silovic, EPE President
Moderators : Jarita Chrisite, Stuart Hutton, Raymond Van Ermen.
20:00 – 21:00 Networking


EU Blockchain Week Agenda ➡️ https://www.ebcw.eu/program/
Registrations for free ➡️ https://www.ebcw.eu/registration/