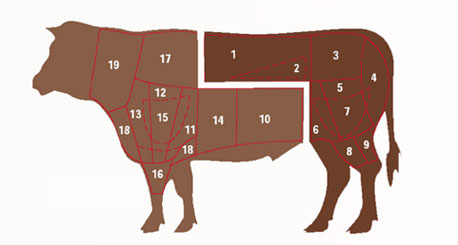 The machine will measure the percentage of fat in a piece of meat immediately after slaughter. The measure will be fast and non-destructive. The precision of measuring will guarantee a correct classification of the meat block.
This measurement will be made through DEXA technology (Dual Energy X- ray Absorption), which allows to analyze meat directly on the production line, without manipulations or processes that introduce a delay.
In addition, this machine allows inspection of the whole production and not just a sample of the product, thus providing a more accurate monitoring of the entire production.
This system will also allow a search of foreign objects in the product, concentrating in a single compact machine the dual function of cataloging the piece based on the fat, and elimination of the pieces contaminated by foreign objects such as needles, sinkers and bones.
Finally, the use of high efficiency X-ray tubes and latest generation sensors will allow to use a reduced amount of energy, thus reducing fuel consumption and allowing the use of reduced amounts of heavy metal shielding.
Type
2.1 - Feasibility studies
Partner
Partner altri poli
ICT
Agroalimentare
Call
Project co-financed within the Innovation Poles of the Piedmont Region (POR FESR 2007/2013, Axis I, Activity I.1.3 - PAR FSC 2007/20013, Axis 1, Line of intervention 1.3.c - III Annual program for projects and services for Research and Innovation)