RAILWAVES
Monitoraggio ferroviario a bordo treno basato su Wireless Sensors Network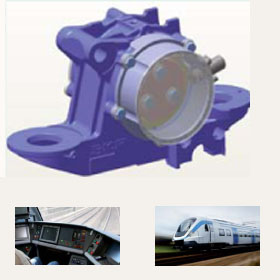 In the railway industry, rolling stock is constructed around bearings that take most of the mechanical strain. By measuring the working temperature of the bearings, as well as analysing the vibrations, one can anticipate potential breakage conditions in advance. In the past, the opportunity of monitoring this size of object has come across the problems and the complexity inherent in installing and maintaining cables. Railwaves eliminates the cables, transferring all the intelligence necessary to acquire, process and transfer the data near to the sensors, implementing distributed architecture.
The project calls for the installation of a prototype on a train (or a similar system) to test it under normal working conditions.
ICT's Role
Our partner, C-Labs, which patented and developed the innovative short-range wireless communication (WINE) technology, will identify the wireless communication support system. Thanks to its expertise in antennas, ISMB will be responsible for designing and creating a prototype of the antenna which will be placed near the bearings on the axes of the train's wheels. Finally, Bylogix will analyse the HW and SW characteristics required for the safety of the wireless system, supporting development work to integrate such requirements.
Call
Progetto cofinanziato nell'ambito dei Poli di Innovazione della Regione Piemonte (POR FESR 2007/2013, Asse I, Attività I.1.3 - III Programma annuale per i progetti e i servizi per la Ricerca e l'Innovazione)