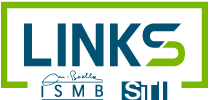 LINKS Foundation, a central node of the Turin research and innovation ecosystem, operates in a consolidated international network with the aim of contributing to technological and socio-economic progress through cutting edge applied research projects.
Partner of excellence for public and private organizations who want to promote projects of technological innovation and territorial development, LINKS stands out for the high competence and multidisciplinarity of human capital, the real beating heart of the Foundation.
//= pll_e("Cosa Facciamo"); ?> //=$value["tipo_tecnologia"]?>
Application fields
Culture and Tourism
Digital media
Contacts
Via Pier Carlo Boggio 61 10138 Torino (TO) Italy
+39 011 22 76 150
Completed projects
APM-Bank
,
GA-RF-WSN
,
AR3
,
AUTUMN (AUTomotive hUMan Net)
,
AUTUMN 2
,
µCloud
,
BE SMART, DRIVE SAFE!
,
CDVSec
,
CloudCEM
,
FaPre
,
GLASSBRAIN
,
GOLDEN INFRA
,
HPC CloudPills
,
IES
,
IoT_|_ToI
,
Multi-Radio
,
is4.mobi
,
MoMa
,
Odino
,
P-MOSP
,
PleTORa
,
RAILWAVES
,
SINOPIA
,
SMILE-O
,
SMILED
,
SRT_LOCUPS
,
STORIES
,
TaG
,
TA_SL
,
TWINKLE
,
UMG
,
RED tag
,
CloudHealthImaging
,
SARA-STEP1
,
Dislo-Man
. //= $progetti_correlati_stringa; ?>