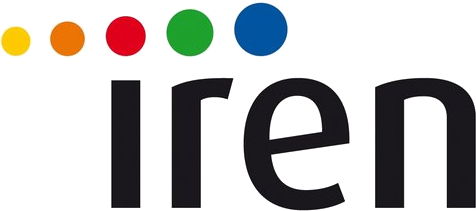 IREN, a multiutility company listed on the Italian Stock Exchange, operates in the sectors of electricity (production, distribution and sale), thermal energy for district heating (production and sale), gas (distribution and sale), the management of integrated water services, environmental services (collection and disposal of waste) and services for the local authorities.
Iren is structured as an industrial holding with its main corporate offices in Reggio Emilia, operating units in Genoa, Parma, Piacenza, and Turin, and separate companies in charge of the individual business lines. Holding company, Iren S.p.A. handles strategic, development, coordination and monitoring activities, while the operating companies ensure the coordination and development of the business lines:
Iren Energia in the electricity and heat energy production sector and the technological services sector;
Iren Mercato as regards the sale of electricity, gas and district heating;
IRETI in the gas and electricity distribution business and in the integrated water service;
Iren Ambiente in the waste collection, in the design and management of waste treatment and disposal plants and in the renewable energies sector.
//= pll_e("Cosa Facciamo"); ?> //=$value["tipo_tecnologia"]?>
Strategic paths
[traiettorie] Internet of Things
[traiettorie] Web & Mobile
Application fields
Energy and Environment
Smart Building
Contacts
Via Nubi di Magellano 30 42123 Reggio Emilia (RE) Italy
011 4098159
Completed projects
Ottempo
. //= $progetti_correlati_stringa; ?>